This post about smoothies contains affiliate links. All views expressed are my own. Your tastes and results may vary.
Smoothies are one of our favorite ways to start to the day. I like to sometimes think of them as "the soup" of the morning. Ok, so that may sound a little weird, but the truth is, there are so many recipes and concoctions to make yummy smoothies. You can almost always finish off small amounts of fruits and greens to make a yummy, and better for you breakfast.
A little spinach, the rest of that kiwi, maybe some strawberries? Smoothies are so versatile and are the perfect way to get energized without loads of caffeine.
Alright, so I do love my coffee, but I also really love a strawberry smoothie, or an orange smoothie (with a little zest inside).
I have shared so many easy & yummy fruity smoothies over the past year or two. It made me realize that I should probably even share them all in one, easy to find place to inspire you all!
Before I share them, I wanted to suggest some smoothie ingredients you need in your kitchen to get the ball rolling.
Our Favorite Supplies:
Quality Blender – I love my Blendtec which has the perfect smoothie preset. If you don't want to stretch your wallet to buy a Blendtec, make sure you buy a quality blender with a strong motor. We recommend that it's 1000 watts or more.
Shaker Bottle – This is essential if you're going to bring your smoothie with you to work, school, or the gym. It helps to keep the liquids from separating from the fats. Plus, its strong cap will contain your precious drink in case you drop it!
Our Favorite Smoothie Ingredients:
Plain or Greek Yogurt – We usually use non-fat plain Greek yogurt for our smoothies, but you can opt for vanilla or fruit-flavored if you prefer sweeter drinks.
Orange Juice, Apple, Pineapple- or your favorite blend – Juice is optional and should be avoided if you're conscious about added sugar and healthy weight management.
Almond, Coconut, or traditional milk – These milks are optional as well.
Protein Powder – If we use protein powder, we typically use whey isolate that is vanilla flavored.
Recommended Fresh Ingredients:
Spinach
Kale
Strawberries
Pineapple
Mango
Banana – cheapest smoothie ingredient that produces a creamy smoothie
Blueberries
Oranges/tangerines
Nutritional Add-ins:
(Always consult a doctor to make sure these are safe for you):
Emergen-C (Super Orange is delicious in most fruity smoothies)
Greens Powder – to add extra "green goodness"
As you can see, there are so many yummy add-ins to make ordinary smoothies extraordinary.
That's all for our tips, now check out some awesome recipes to try!
11 Easy & Yummy Fruit Smoothie Recipes:
An organic berry smoothie that is 4 ingredients and easy to prep for busy mornings! This recipe makes 1 large 16 ounce smoothie.
Get the Recipe
A deliciously fruity, and filling smoothie that contains fat & fiber with low carbs.
Get the Recipe
Win breakfast or snack time with these delicious, and fresh kid-friendly ideas. The fruit pizza pancake features fresh fruits, vanilla bean yogurt and coconut flakes for a tasty and wholesome meal. The Grape Smoothie is a blended smoothie that feature Juicy Juice Grape, Banana, Yogurt and more! Get inspired with these two easy and kid-approved meals.
Get the Recipe
A green smoothie that is packed with nutrition and flavor. Perfect for St Patrick's day or any day that you want to feel revitalized.
Get the Recipe
A fresh and vibrant smoothie that is made with juice, fresh fruit, and milk.
Get the Recipe
Nutritious Orange Cream Smoothie
Made with Emergen-C Super Orange, this is a Vitamin-C packed Orange Cream Smoothie is easy to make for breakfast or a mid-day snack.
PB2 Almond Powder Smoothie with Raspberry Banana
You'll love this delicious PB2 Almond Powder Smoothie recipe with Raspberry Banana that boasts great flavor and nutrition.
Layered Tropical Fruit Smoothie with Protein
Layered Tropical Fruit Smoothie with Protein is a refreshing drink that is perfect for the warm weather! T Fruit smoothies like this Layered Tropical Fruit Smoothie with Protein are my favorite ways to sneak in extra nutrients into my diet. I admit, I am not the person who opts for the healthiest st…
Healthy Mint Chocolate Chip Smoothie
Healthy Mint Chocolate Chip Smoothie Do you or you family members love mint chocolate chip ice cream, or milkshakes? I know in this house I have three little ones who all look forward to our ice cream outings because it means yummy mint chocolate chip ice cream or a shake. They just love the green c…
Easiest Green Smoothie
To make your green smoothie extra smoothie-rific, start with frozen fruit. DOLE frozen fruit is an excellent choice because it's picked at peak ripeness. Using frozen fruit also creates less waste since it doesn't spoil like that apple that's been on your counter for two weeks now…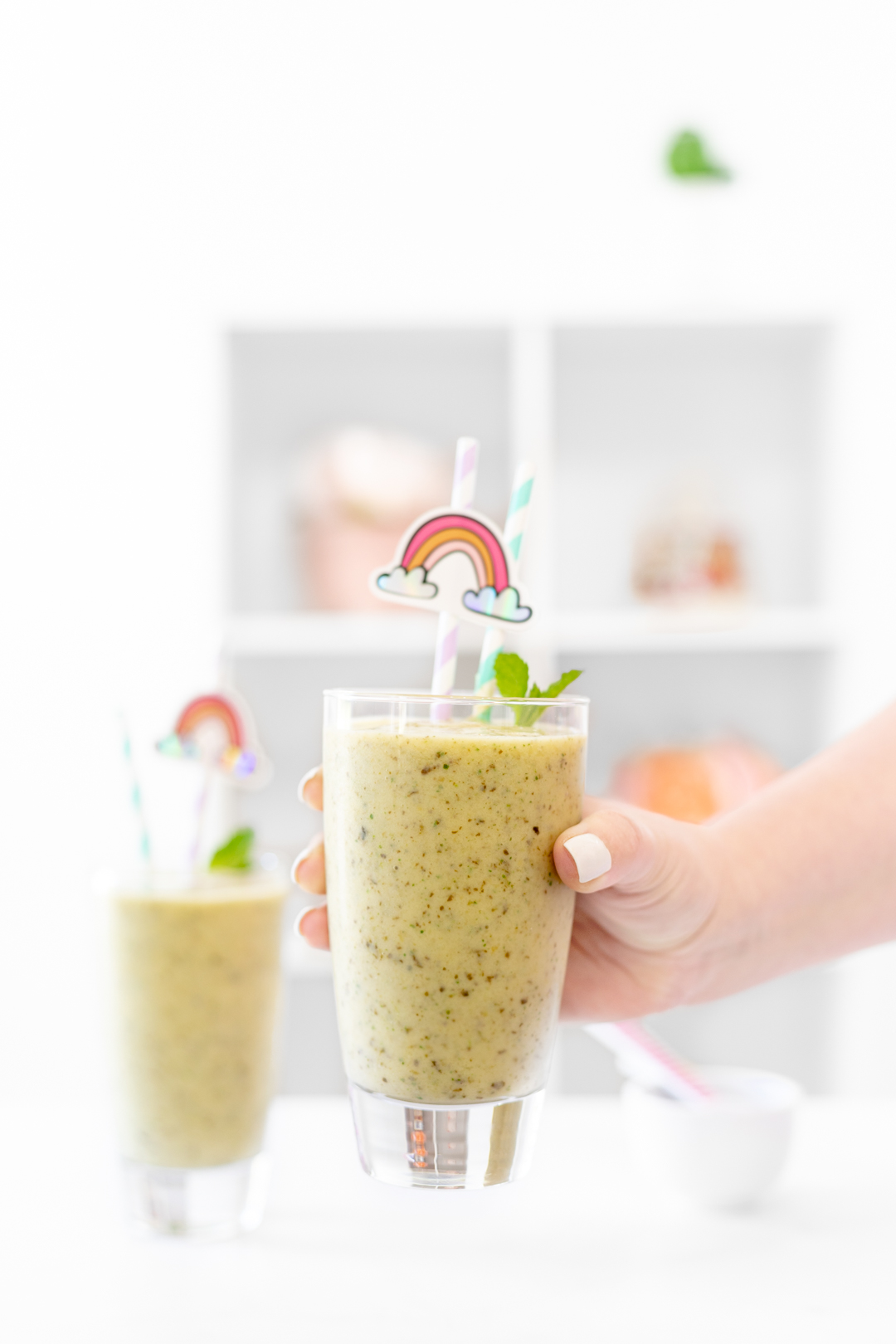 Fruit & Yogurt Smoothies
Three different delicious smoothies you can easily whip up with simple fruit and yogurt ingredients.
 These statements/recipes have not been evaluated by the Food and Drug Administration. Any supplements referenced in this post are not intended to diagnose, treat, cure, or prevent any disease.