Elegant Easter Brunch Tablescape, and Serving Ideas
Thank you to the Chinet® brand for sponsoring this post.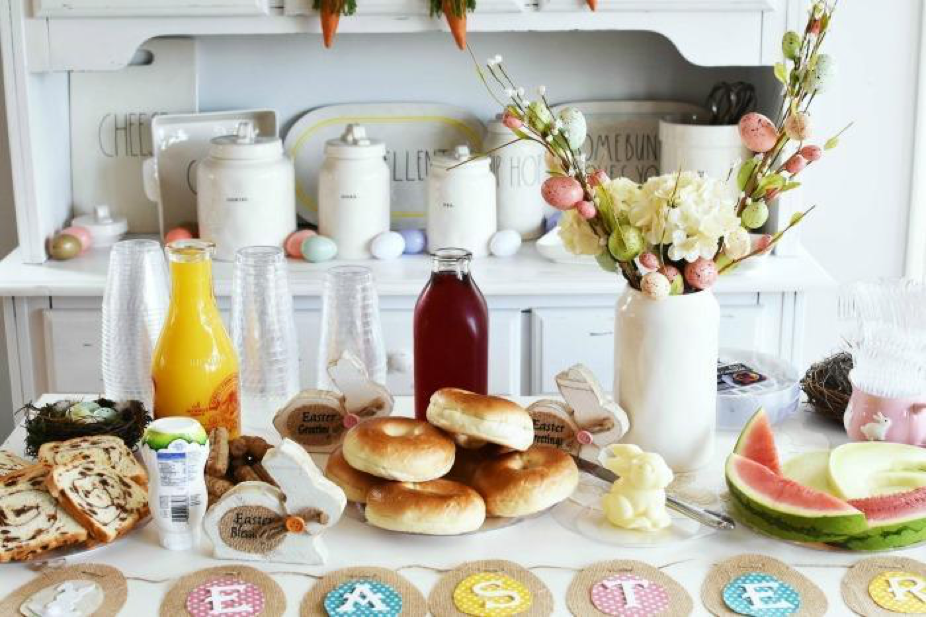 Click the image above to shop!
Brightly colored pastel eggs intertwined with hues of pinks, purples, and blues. Nostalgic chocolate bunnies and the need for some change for eggs hunts-these are some of my favorite things about Easter.
Easter is early this year which makes me super excited! I just love this holiday because it represents a spiritual rebirth, and brings with it spring! I cannot wait to see daffodils and tulips blooming, and enjoy the buzz of bees, and flutter of birds.
For our little family, Easter Brunch is a really important celebration after church. It allows us to reconnect, refresh and enjoy each others' company before our traditional Easter dinner. Typically, our brunch get-togethers do not contain super heavy foods, but more of a lighter bites spread. There is nothing worse than filling up on one meal and not being able to enjoy another!
Our Easter brunches always feature traditional carbs like bagels, small pastries and Portuguese sweet bread, served with butter and cream cheese.
Refreshing fruits like melons are also a staple for those who might be watching their waist size.
Beverages like cranberry juice, orange juice, coffee, and tea are typical staples, and allow all ages to enjoy the celebration.
This year, I plan on my Easter Brunch being elegant. It will be our first Easter in our new home so I wanted to celebrate with a fun spread.
Here are my Elegant Easter Brunch Tablescape and Serving Ideas, made possible by the Chinet® Cut Crystal®  collection, that will hopefully inspire you all to create a delicious spread for your friends and family.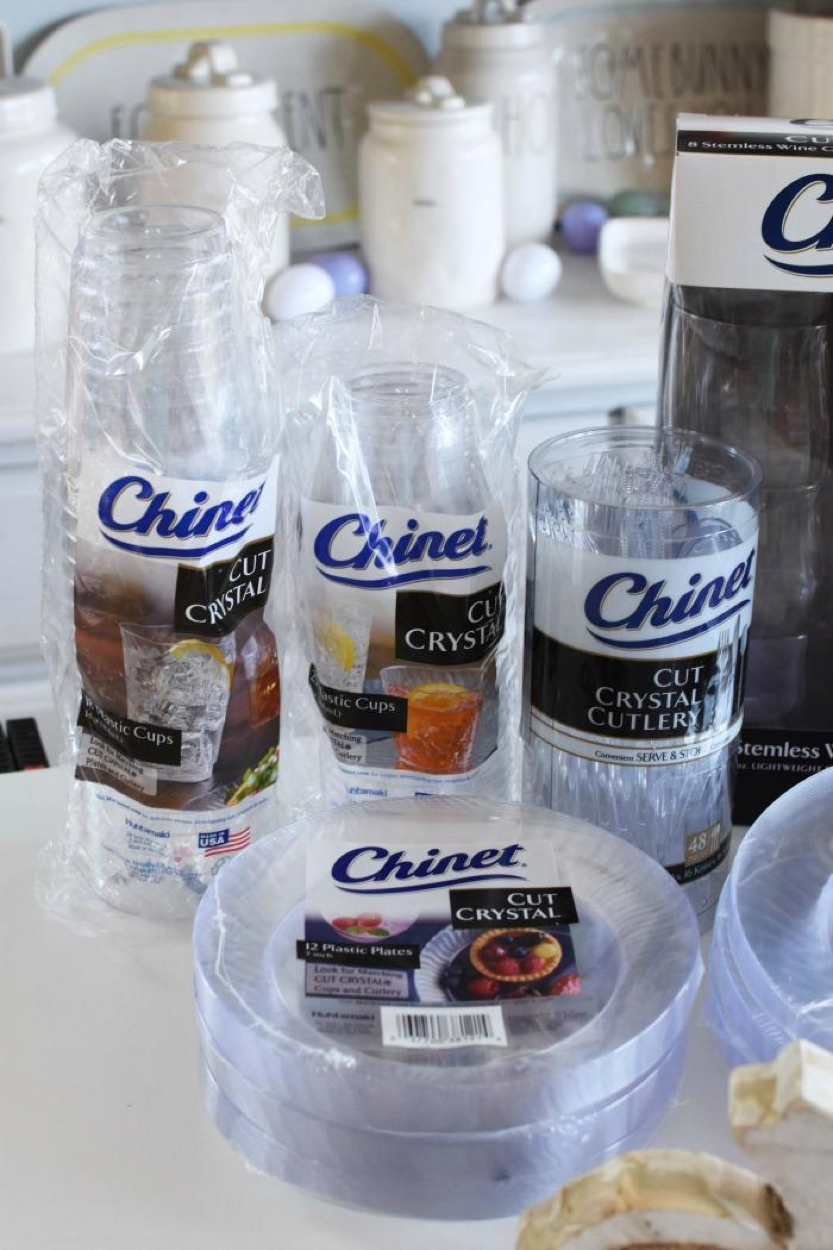 Click the image above to shop!
Serving Ware
Paper cups can surely come in handy for kids' parties, but I wanted a much more elegant touch to my Easter Brunch. That is why the partnership with the Chinet Brand for their Chinet Cut Crystal plates, cups, cutlery and wineglasses. These elegant, recyclable plates, cups, cutlery, and wineglasses are not only functional but super pretty.
I love how beautiful the Chinet Cut Crystal plates, cups, cutlery and wine glasses truly are. They bring such an elegance to any function and really made my Easter Brunch tablescape setting extra pretty and elevated.
These Chinet Cut Crystal collection items are perfect for weddings, bridal showers, baby showers and all the spring season has in-store for celebrating! I love how everything in their elegant line is fully coordinated. If I am having guests over, I do not want my set up to look mismatched.
These charming bunny napkins made me smile.
Table Decor 
I opted for just one small placemat for my tabletop because linens tend to get dirty so fast around here. The dainty Easter bunny placement is oval-shaped and features a rustic charm which I was going for to complement my farmhouse-style home.
Little wooden bunnies were carefully placed on top of the table in between the food and beverage, as well as a burlap banner.
A pottery vase held some florals which were spring and Easter themed. The speckled eggs tie in the country chic charm.
Foods
No Easter brunch is complete without eggs. I boiled some white eggs that would pair well with my food options.
Fresh bagels and cinnamon raisin bread were plated on  Chinet Cut Crystal dinner plates.
This adorable, and I mean ADORABLE, bunny is made completely of fresh butter–almost too cute to slice into. I also added a bottle of squeezable cream cheese to keep things clean.
Fresh honeydew and watermelon were also served.
As far as beverages go, we did not have any alcoholic drinks for the brunch–*those come later in the day for us– but we did serve the basics like juice, tea and coffee.
Overall, I think our brunch was perfect and I cannot wait to do it all over again this spring!
This brunch will surely hold us off until our late day Easter ham dinner.
I was selected for this opportunity as a member of CLEVER and the content and opinions expressed here are all my own. Chinet® and Cut Crystal® are registered trademarks of Huhtamaki, Inc. in the U.S. and other countries.