What You Need to Pack & Prepare for a Trip to Germany
This shop has been compensated by Collective Bias, Inc. and its advertiser. Product was provided by the client for review; however, all opinions are mine alone. #WorldsSmartestToothbrush #CollectiveBias
Scroll down for the HOTTEST holiday gift idea for that tech-savvy guy in your life. Trust me, you will make one guy mega excited this holiday season with the Philips Sonicare DiamondClean Smart Electric Toothbrush!
Click the below image to shop for this product right from our post!
Click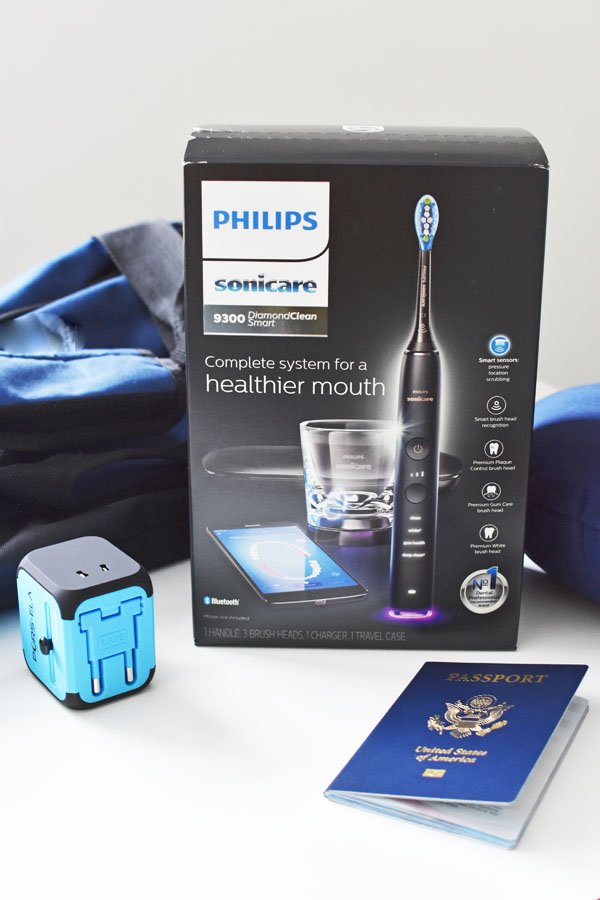 As I sit here and type this post up, I am thousands of miles away from home in Seigen, Germany. I have always wanted to travel to Germany, and about 6 months ago that came to fruition. We are having a new machine made in Germany for my work, and I needed to head there to check it out and do some testing.
Since traveling to Europe is not something I do every day, there was lots of preparing that I wanted to share. I gathered so much info on what I needed to pack & prepare for a trip to Germany that I just could not wait to share.
My plane ride was a pretty lengthy one and required a puddle jumper plane from Boston to Toronto, and then from Toronto to Zurich Switzerland (over 11 hours of plane rides- good thing I am not scared to fly like my wife). There are open borders in this part of Europe so I actually drove with the salesman from the company I am working with. That really helped calm my nerves a little since he does this many times a year, and YES the steering wheel was on the American side of the car.
My time here has been really cold and the weather is actually just like the weather back home in New England, so no temperature shockers. Sadly, it was not the sunniest time here so we did not get many good pics due to that and time constraints.
I will say that I sure did eat really good here, and enjoy lots of delicious pork-based products which are big in Germany.
If you are thinking of a trip to Germany, or Europe, I wanted to share some super important tips I learned during planning my trip and also packing basics.
What You Need to Pack & Prepare for a Trip to Germany
Luggage:
When traveling it is best to pack as light as possible. I had one luggage, and one carry on item that fit the TSA guidelines for weight. I found a luggage on wheels and backpack to be the best for me. Now, if my wife was going she would have a real hard time packing lightly–don't tell her I said that.
Power Cords:
We all know that we can't live without our cell phones and electronics. However, you might be in for a rude awakening if you fail to buy a European Powder Cord Adapter. They have special outlets that DO NOT work with our American plugs so be wise, and buy one!
Travel Docs:
Passports are key to travel, but did you know you should make 2 copies of your passport and airplane/travel itinerary? One for your carry on bag and one to leave at home in case of an emergency. You should also print and make a copy of US consulates should an emergency happen.
Travel Insurance:
Most American insurance providers will not cover any medical issues that happen abroad. Be prepared and buy travel insurance up to one million in coverage. It is literally pennies a day for a piece of mind.
Finances:
Make sure to always have back up cash on you. You can exchange currency at airports. Also, be sure to let your credit card companies know you are traveling so they can lift fraud protection. Your card might also have an international surcharge. Ours is 3% of every purchase.
Immunizations:
While Germany does not require a full immunization record to enter their country, you should be up to date on all your shots. I got a Hepatitis A shot before travel since Hepatitis A is common in Germany.
Clothes:
Germany tends to get pretty cold in the fall/winter so be sure to bring some sweaters. I packed 3 pair of jeans, 2 sweaters, pjs, and some tees.
Phone Travel Pass:
I don't know about your cell phone service provider, but our's does not cover international travel. You can buy a travel pass which is $10 per day to prevent roaming charges.
Travel pillow:
On a flight to Germany, they will pass out a meal and small blanket and pillow. I brought a travel neck pillow to support my head and provide extra comfort.
HBC Products:
Travel to Germany also follows the 3-3-1 rule for TSA. You can have a quart-sized zipper bag of gels, aerosols, creams, and pastes, but they cannot include more than 3.4 ounces per item.
On my trip, I also brought my all new, (number one Dental Professional recommended brand) Sonicare DiamondClean toothbrush.
The Sonicare DiamondClean toothbrush brings brushing your teeth to the next level of awesomeness and provides complete oral care. Now you can care for your whole mouth, teeth, gums and tongue. Only the new Sonicare DiamondClean toothbrush has four high-performance brush heads and Smart Sensor technology for personalized feedback and coaching. It gives you superior results and 100% confidence in your oral care – every time. You can even get healthier gums in 2 weeks* (*vs a manual toothbrush)
Only the new Sonicare DiamondClean toothbrush has four high-performance brush heads and Smart Sensor technology for personalized feedback and coaching.
I love that my entire mouth is getting the attention it needs. I have only been using it for about a week but my mouth already feels better.
The sleek look of the brush, the super convenient travel case (perfect for Germany travel) fit into my luggage with ease.
I also am such a tech guy so the accompanying app is so awesome! I love that this toothbrush is blue-tooth enabled which makes taking care of my oral health fun and interactive.
If you are looking for the Hottest Holiday gift that keeps on giving–in the form of a healthy smile, the Sonicare DiamondClean toothbrush is for that special someone or YOU!
You can find this tech-savvy holiday gift idea at Bed, Bath & Beyond this holiday season!
It should be located right in the front of the store in the personal care area near the registers.
What are your travel tips for heading to Germany?